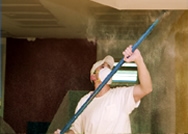 Popcorn ceiling removal is not a physically simple task for homeowners that are looking for an upgrade in their home, but it is one that we can do in a very efficient manner. We not only specialize in a comprehensive list of painting services, from color consulting to application to stucco jobs; we are also proficient technicians on the surface of your ceiling.
Popcorn ceiling removal is not a simple DIY task, and we are here to help. Call now for your free estimate at 919-510-0140.
Let's face it, it is not the 70s, 80s or 90s any more, and it is time that your home is more reflective of current times. We are now living in a new decade of a new century with the style of buildings reflecting a little something more, and our popcorn ceiling removal kicks off your efforts nicely! If you are interested in getting other work done for the rooms inside your home, then why not make it a more complete makeover with this service that we expertly provide?
This texture on your ceiling will prove to be an enormous mess for you to sort out if you try to complete it on your own. We feature a tried, tested and true process that gets the project done cleanly, quickly and very affordably. If you are a person who likes an entire concept of style, ambiance and livability in your home, then talk to us about our popcorn ceiling removal. This is not a job that you should handle on your own or even with a few friends for help. This task will even wear down experienced professionals because of the long periods of time with arms held overhead. Additionally, you will want a technician who will not damage your home. We have many years of experience troubleshooting this project.
We feature all of the right credentials for your home's popcorn ceiling removal, including:
A+ rating with the Better Business Bureau … The first place folks have turned to throughout a century of service has been the BBB, the watchdog of local businesses and contractors. This independent, non-profit organization has one interest, and that is protecting the rights and interests of consumers. We proudly feature the top grade from this trusted group.
A vast amount of experience … We are technicians, managers and owners that have plenty of experience – some of us feature more than 25 years of experience in projects including popcorn ceiling removal. Since 2001 we have worked as a unified company making homes like yours a better place in which to live.
PDCA membership (Painting and Decorating Contractors of America) … This is a trade association that aims to uphold, maintain, promote and further standards in our industry. We are passionate about staying on top of standards throughout our field and staying on top of the competition throughout North Carolina.
Popcorn ceiling removal with a professional company like us provides peace of mind in at least two ways. First, you will appreciate knowing that this task is off of your shoulders – you do not have to worry about incurring an unexpected and costly hole in your ceiling, for example. More than that, however, you are working with caring, vigilant and experienced technicians that understand your position as a homeowner.
We earn your trust with 100% excellence. Popcorn ceiling removal can be a mess! Here is a job best left to experienced pros.  We provide free estimates at 919-510-0140 for removing textured ceiling.
We provide professional popcorn ceiling removal in Raleigh, Durham, Chapel Hill, Cary, Morrisville, Holly Springs, Apex, Fuquay Varina, Garner and Wake Forest, North Carolina.