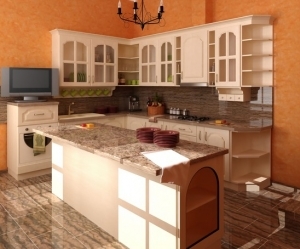 There are many reasons to consider redoing the interior of your home; kitchen cabinet painting or finishing is one of our specialties. Whether you want to integrate a certain color scheme, or look, the paint and finish on your kitchen cabinets can play an important role. We have the expertise and experience to give your cabinets and interior the look you want. Maybe you have hesitated on repainting the interior of your home because you weren't really sure of the cost or what was involved. We can come out and go over all of those details with you, then you can decide on how you wish to proceed.
We have your free estimate here at 919-510-0140.
There are a variety of kitchen cabinet designs. When you are considering the color schemes and décor that you want for your kitchen, make sure that you know all of your options. Visit your local stores, pick up magazines, watch design shows and pick up color swatches from home improvement and furniture stores to get ideas. Consider the amount of light, and the feel you want for the room. Darker finishes on your cabinets will give a sleeker feel.
In addition to painting or finishing your cabinets, we know the best way to prepare your cabinet surfaces, or repair them if we see that you need it. Our painting contractors will do whatever is necessary to give you the best look when we're done. Call us for a free estimate on your kitchen cabinet painting today: 919-510-0140.