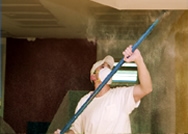 Removing textured ceiling has turned out to be one of our most valued services throughout Raleigh, Durham, Chapel Hill and the many surrounding communities throughout North Carolina. We specialize in making the surfaces of your home the most attractive and "healthy" as can be, which is why we not only focus on providing you with the very best paint available from the industry, but also concentrating on projects that further stabilize and beautify your existing property. Painting walls is not an isolated project, which is why we also service your ceiling
Our textured ceiling removal is one of our most valued peripheral services for beautifying your property. Call today for your free estimate at 919-510-0140.
There are many ways to go about home renovation, but in general there are two extremes. One is the full-on blitz in which a homeowner (usually those who recently bought a property) tackles many projects such as textured ceiling removal within a short amount of time. For these folks, they want to be able to move in quickly while having all minor and/or major renovation completed before settling in. On the other end of the spectrum are those homeowners who take care of projects when they can – when time and money are available.
We want you to know that all of our projects including textured ceiling removal come with expedient priority (saving you time) at an outstanding value (saving you money) no matter how you go about home improvement. Just as how curb appeal affects the value of your home from an outside point of view, how the cosmetics jibe in your property's interior also has a major role in property value. There is no need to beat around the bush; popcorn and otherwise textured ceilings just look outdated, and unless you are holding a retro 70s and 80s costume party, it is definitely time to update your home's interior!
Textured ceiling removal is not an easy job for DIY-minded homeowners to tackle. It can be very physically taxing, extraordinarily messy and if you are not careful, dangerous. Our seasoned technicians have all of the training and experience to quickly and safely get the job done so you can move on with your life and renovate without hassle. There are many solid reasons to choose our firm for work on your home, including:
Painting and Decorating Contractors of America (PDCA) membership … We take it upon ourselves to align ourselves with like-minded industry people to ensure absolute excellence for projects such as textured ceiling removal. This organization seeks to promote high standards in our field of work.
Better Business Bureau A+ rating … Before online research was available to the masses, the BBB was the place anyone could turn to for reliable info on businesses in North American for nearly a century. It still remains a most trusted non-profit and we proudly stand by our rating.
We you choose us for projects such as removing textured ceiling; you are getting the benefit of individual professionals – owners, managers and technicians that have several years of experience (often exceeding 25 years). There is no need to leave your property to chance – to those without the dependable reputation of our company. Our pricing is competitive and our expertise remains unchallenged.
Update your home's interior with our services today! You will be impressed with our popcorn ceiling removal. For a free estimate call us at your convenience – 919-510-0140.
Our professionals are experts at removing textured ceiling in Raleigh, Durham, Chapel Hill, Cary, Morrisville, Holly Springs, Apex, Fuquay Varina, Garner and Wake Forest, North Carolina.