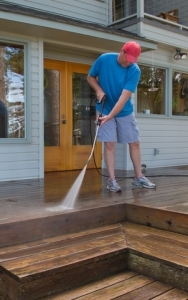 Having your home treated to a pressure washing is more important than you think. At a spa, before any beauty enhancers are applied to one's face, a pore-cleaning facial is called for before anything else is done. Likewise, before we apply anything to your home's exterior, we first give those walls, concrete, or deck a refreshing power wash. Perhaps your home has not been cleansed in such a way for several years, if it has ever been put through this treatment. Suffice to say, if this is the case, your home will immediately be much more vibrant than before with just a simple power wash.
For home pressure washing, call 919-510-0140 for a free estimate. For maximum curb appeal, go with the best painters and contractors in the Triangle area.
Pressure washing your own home can be a daunting task depending on the size and shape of your house, painting it can be a pretty daunting task. That's where we come in. Our painting contractors legitimately care about doing a good job on doing whatever work you would like on your home. There's no use in applying the highest quality paints to a surface covered in dirt and grime. Our contractors know what they're doing, and can tackled the largest, most challenging power washing tasks.
We provide pressure washing services in Raleigh, Durham, Chapel Hill, Cary, Morrisville, Holly Springs, Apex, Fuquay Varina, Garner and Wake Forest, North Carolina.