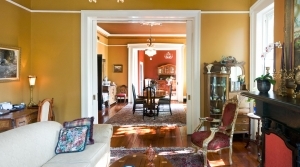 Our interior house painting service can give you a professional look inside your home. Whether you have a new house or just want to remodel your existing home, we can paint any room of your house and give you the beautiful look you want. Painting the walls of your home can be a great starting point to redecorating your home the way you like. We are the gold standard in interior house painting.
Interior house painting jobs may be necessary for a number of reasons. No matter what your specific reasons are, we can come out to your home and give you an estimate for any and all of the rooms you're thinking about redecorating. Here are some reasons you might want a new paint job for the rooms in your home:
You have a new home – If you have just purchased or built a brand new home, a professional interior painting service can give you a polished look. Once you decide what kind of look each of the rooms in your home should have, we can come and do the hard work.
You want to remodel your existing home – Perhaps the décor of your home is a bit outdated. Maybe you feel trapped in the 1970s or 1980s when you walk in the door after a long day of work. No matter what your budget, new paint can make your home feel new again.
You might want to sell your home soon – Your home will have a higher perceived value if a professional interior painting service is hired to help you redecorate. Freshly painted walls will attract the eyes of prospective home buyers, and may be the reason that they choose to purchase your home above the other homes they have visited.
You might need one of the rooms in your home to serve a different purpose – Maybe you have a baby on the way, and you want the perfect nursery to welcome home the newest member of your family. Perhaps the opposite is true. Perhaps you want our interior painting service to make your kid's room into a guest room after your children have gone off to college.
If one of these or any other reasons is true for you, please contact us to discuss your situation.
In addition to giving you a new paint job, we perform all the necessary steps to prepare the surfaces in your home. We do both wallpaper removal and textured ceiling removal. We can make the ceilings in your home flat instead of the textured look that can often appear outdated. In the same sense, we save you future headaches by removing wallpaper before we start a new interior painting job.  Speak with an interior painting contractor now.
Interior house painting gives you a lot of options for design. When you are considering the color schemes and décor that you want for your rooms, make sure that you know all of your options. Visit your local stores, pick up magazines, watch design shows and pick up color swatches from home improvement and furniture stores to get ideas. If you have a home by the shore, you can decorate it to look like a seaside cottage by using light pastel colors. If you prefer a sleeker look, you might want to opt for darker colors of paint. Make sure you consider how much light comes into your home on a daily basis; you wouldn't want your interior painting job to make your house look too dark and ominous.
You might also want to integrate the color schemes into other rooms, or you might want every room in your home to look unique and different. We have the expertise and experience to give your home the look you want. Maybe you have hesitated on repainting the interior of your home, because you weren't really sure of the cost or what was involved. We can come out and go over all of those details with you, then you can decide on how you wish to proceed.
We provide interior house painting in Raleigh, Durham, Chapel Hill, Cary, Morrisville, Holly Springs, Apex, Fuquay Varina, Garner and Wake Forest, North Carolina.