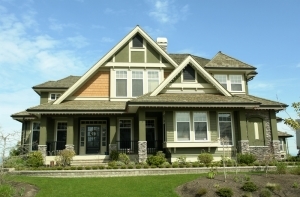 Exterior house painting is an advantageously cost-effective method for dramatically improving your home's curb appeal. It is a cosmetic improvement that is very much like receiving an entire spa treatment – a surface application that seems to magically have the power of rejuvenating an inner life.
Exterior house painting, call 919-510-0140 for a free estimate. For maximum curb appeal, go with the best painters.
At a spa, before any beauty enhancers are applied to one's face, a pore-cleaning facial is called for before anything else is done. Likewise, before we apply that special new coating of exterior painting to reincarnate your house's curb appeal, we first give those walls a refreshing power wash. Perhaps your home has not been cleansed in such a way for several years, if it has ever been put through this treatment. Suffice to say, if this is the case, your home will immediately be much more vibrant than before with just a simple power wash.
Additionally, there is not point to applying the highest grade of paint to materials if they are not in good shape, so we also take the initiative and deal with minor carpentry issues on your home, if needed. Little flaws and cracks make paint's adherence to surfaces very difficult, if not impossible. These small but effective improvements are measures we take for your exterior painting job to maximize affect, and ultimately improve the health of your home. These are measures of preparation that you will often not find in other contractors in our area.
Why we lead the way for exterior painting North Carolina home:
Top preparation: We take this time on your home because we truly want to make the outside of your home as dazzling as it can be. We pride ourselves on our knack and ability to see a home's potential beneath a grimy exterior, which may feature debris from overhanging trees, vines and moss covering the walls. We are happy to consult with you on just the right color on your home that you are looking for.
Commercial exteriors: Our expert painters not only excel at your home, but we also are frequently called upon for exterior painting at commercial properties. We take the same careful approach from the many homes we service in our communities and bring it to your business. We are careful to do the best possible job, but we do so at your convenience. We do pretty much all structures, including strip malls, restaurants, office buildings, churches, fitness clubs, daycare centers, hotels and just about anything else you can think of.
Bona fides: We are an A+ member with the Better Business Bureau, as well as a member of Painting & Decorating Contractors of America. With more than 25 years of experience, we are happy to report (OK, and to brag a bit) that they have been fantastic years. We are so pleased to have this mutually beneficial relationship with our central North Carolina communities for exterior painting. These organizations that have given us such high marks are instantly accessible and widely recognized as top surveyors of business quality.
We are available to consult with you at anytime, at your convenience. When you are ready to commit to your home's fullest curb appeal with the best quality of paint and painters, then we will be ready to serve you. We look forward to bringing out your home's beauty.
Call 919-510-0140 for exterior house painting and a free estimate. We take the time to prepare because we care.
Maximize your curb appeal with our exterior house painting in Raleigh, Durham, Chapel Hill, Cary, Morrisville, Holly Springs, Apex, Fuquay Varina, Garner and Wake Forest, North Carolina.