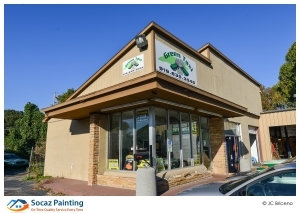 Commercial painters can work on both the interior and exterior of your business or office building. If you have been in search of a professional painting service for your commercial location, you have just found it. Our service can help you improve the look of your business and attract more prospective customers to do business with you.
Our commercial painting services extend to many different types of businesses and organizations. Some of the places that we work with can include:
An office space – We know that if you have an office space, you have people who come in every day to work in that space. We will do our best to make sure that we give you a commercial painting job that looks both inviting and professional.
Strip malls – We can paint the interior and exterior of strip malls to look exactly how you want.
A day care – Day cares are places for children and babies to play, and we will help you make it a fun and warm environment for children to play while they're away from their parents during the day.
Gyms – No matter what color you want for your gym, whether it be a more neutral color or an energizing color (such as red), we can help you.
Restaurants – Depending on the feel and ambiance you want for your restaurant, we can give it a relaxing or romantic look.
Churches – Commercial painting can make your church into a peaceful and clean place for people to come and worship.
Hotels – If you have a hotel that is a bit outdated, we can use paint to bring it back into the modern era.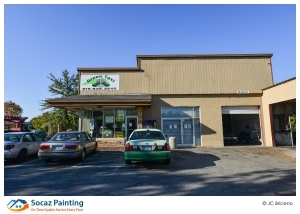 There are many other places where we can paint: schools, medical facilities, offices, shopping centers, automotive facilities, warehouses and anything else you can think of. With our professional services, we guarantee that you will be pleased with our work. With our professional services, we guarantee that you will be pleased with our work.
We know that a lot of businesses experience a vast amount of human traffic. Our commercial painting service offers high quality paint that is specifically designed to withstand the human traffic better than the paint that you use for your home. The most common areas we paint with high foot traffic for businesses include entrances, lobby areas, reception areas, hallways, conference rooms, restrooms, break rooms and exam rooms.
We also know that people are going to your business on a daily basis, and you don't want your place to look like a construction zone. We will work quickly and efficiently to get your workspace back to normal as soon as possible. We are safe and clean; we won't leave a mess, and we use all the proper safety equipment to ensure that no one will experience injury on or off the job.
Our Clients
As commercial painters, it is important to keep the look of your business up to date. Just as you update your advertising and policies to adhere to today's market, you should also update the look and feel of your business from time to time so it looks attractive to prospective clients. If you are thinking about changing the way you advertise, maybe it's time to think about a new commercial painting job for both inside and outside your building. We can match the colors of your company's logo or the colors of your current advertising campaign.
There are many reasons to revamp your business with a fresh paint job. We can get you ready for visits from the president of the company or area manager, or help you with regular maintenance and even help create a regular maintenance schedule. Socaz can even help you choose updated colors for your business to give it a modern feel and freshen up its image. A new paint job is also a must if you want to stay compliant with modern standards and protect surfaces from damage. Also, there's nothing like a brand new coat of paint to improve employee morale!
Get your free commercial painting estimate today! Call (919) 510-0140.
We feel confident that you will be delighted with the service you get from our professional commercial painters. We can come into your place of work or business and give you an estimate for the interior and exterior. Once we have given you an estimate and you have decided to utilize our services and expertise, we will come in at a convenient time to you and complete your paint job quickly and accurately. It's important for your place of business to look as professional as the people who work there, and we can help you achieve this look.
Our commercial painters work in Raleigh, Durham, Chapel Hill, Cary, Morrisville, Holly Springs, Apex, Fuquay Varina, Garner and Wake Forest, North Carolina.